By Mairead Kelly
It's natural to focus on your baby during pregnancy—for first-time parents especially, there's so much to prepare for and learn before they arrive. But rarely, in between bulk-buying diapers, forming your birth preferences, and building your labor support team (to doula or not to doula?), do we stop and think about the recovery period after birth.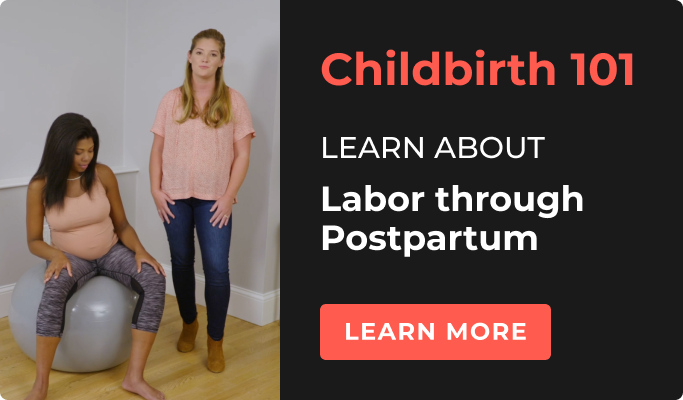 No matter how you gave birth, the first six to eight weeks postpartum are crucial to your physical and emotional recovery. Even if you sailed through your pregnancy, vaginal soreness (and possibly stitches) from delivery can make just about any activity uncomfortable, and bleeding and bleeding may continue for weeks. And if you had a Cesarean birth, you'll need even more downtime as your body recovers from major surgery.
Just like birth, no two recoveries are completely alike. But as Tinyhood's Labor and Delivery expert, Ashley Derderian Sousa, knows from her years as a labor, delivery, and postpartum nurse (and having a baby herself), there are things you'll want to gather to make your postpartum recovery go as smoothly as possible.
Looking for more labor and birth resources? Check out our Childbirth 101: From Labor through Postpartum course, which highlights Ashley's expertise plus handy guides and checklists on everything from how to advocate for your birth preferences to the labor experience to what to expect in the first few hours after your baby arrives, and more.
1. Comfortable clothes to recover in
Clothes that are soft, breathable, and nursing-friendly, if you plan on breastfeeding or pumping, are essential to postpartum care. Keep in mind that you won't be quite ready to jump back into non-maternity clothes after labor as your body begins its transition back to pre-baby mode. Maternity clothing will also help accommodate the large maxi pads you'll wear in the early stages of postpartum bleeding and provide comfort while you heal.
If you've had a Cesarean birth, avoid any bottoms with buttons or zippers, as they may irritate your incision or squeeze your abdominal area. Instead, consider stretchy, high-waisted, loose-fitting pants, flowy dresses, or a nursing romper with a waistband that reaches above your incision site.
The same rules of comfort apply to postpartum underwear. Immediately following delivery, you'll likely wear disposable mesh underwear supplied by your healthcare provider, but you may find that the material can feel itchy or isn't as stretchy as you'd prefer.
In this case, look for breathable postpartum underwear in fabrics that offer stretch and support in sizes that leave room for post-birth pads and ice packs. If you've delivered via Cesarean, high-waisted underwear is especially ideal since it conforms to your changing body without rubbing against your surgery dressing or irritating your incision site.
2. Vagina Healing Sandwich
There are many things that no one tells you about giving birth, but vaginal pain and soreness are probably ones you've heard about. "Your vagina and bum will probably be swollen and just not comfortable," says Ashley.
Of course, there's no one-size-fits-all approach to dealing with discomfort, but there are ways to ease soreness and encourage postpartum recovery. One of Ashley's preferred ways of easing postpartum vaginal pain is something she calls the "vagina healing sandwich," which includes postpartum undies, a maxi pad, an ice pack, witch hazel pads, and pain spray.
Assembly is pretty simple — watch this quick video. Start by opening your postpartum underwear on a flat surface and stick one or two maxi pads onto the underwear. Layer an ice pack on top and place witch hazel pads on top of the ice pack. From here, spray some pain-relief spray onto the witch hazel pads, and you're ready to put on your underwear and start feeling relief.
Some people develop itchy, painful hemorrhoids after birth—and witch hazel pads can help here too as they lessen inflammation, draw tissue together, and slow bleeding. "While the hospital will probably supply these," Ashley says, "You may want to stock up on a few for home so you can continue to use them for the weeks after delivery.

3. Peri bottle
General soreness, swelling, and tenderness around the perineum area are standard after a vaginal birth, which can make postpartum peeing a less-than-pleasant experience, even if you haven't received stitches due to a perineal tear or episiotomy.
After you've been medically cleared following delivery, your provider will supply you with a peri bottle, short for perineal irrigation bottle, which is a squeezable squirt bottle that you can fill with room temperature water. From there, it's used to squirt your perineal area as you pee to help dilute the urine and ease the burning sensation—or use it to clean your vagina and bottom easily and gently.
After using the peri bottle you can certainly pat dry with toilet paper, Ashley says, "But I always just say 'pull up those undies and call it.'"
The bottle your provider gives you will likely be a basic plastic squeeze bottle with a screw top, though you can also purchase bottles with features like angled spouts to make getting to hard-to-reach spots easier with multiple spray streams.
The benefits of peri bottles aren't exclusive to those who've experienced a vaginal birth, either. If you were in labor before your Cesarean section, your perineal area may be sore and possibly swollen and you may experience burning while peeing, and a peri bottle can help combat the sting. Plus, since your incision can also make bending over difficult, the bottle can help ensure you won't have to bend or reach too far after using the toilet or deal with the "ouch" factor of toilet paper or wipes.
4. Sitz baths
A Sitz bath is a warm or cold shallow bath that helps cleanse and ease discomfort around the postpartum perineal area while increasing blood flow to the site and aid in faster healing. It can also help ease pain and itching from hemorrhoids—another common postpartum symptom following a vaginal delivery. Sitz baths can be taken in a bathtub, or you can purchase a round, shallow basin which fits snugly over a standard-size toilet seat.
To take a Sitz bath, place your basin filled with water into a toilet seat, or fill your bathtub with a small amount of water—no more than a few inches. Basins and tubs that aren't cleaned and disinfected beforehand may spread bacteria and pose a limited risk of infection, so be sure yours is sanitized before use.


5. Donut pillow
By now you know feeling tenderness and irritation in the perineal area is especially common among those who've given birth vaginally. "If you had an episiotomy or tearing, it can be even more uncomfortable," says Ashley, "And you may feel stitches rubbing when sitting or walking, And while resting and relaxing is good, sitting is not the best position for you to rest in since it can feel like you're putting pressure on an area that can't really handle much else."
"In cases where patients have severe hemorrhoids, vaginal swelling, severe pain, or an intense vaginal repair," she adds, "I recommend sitting on a donut pillow since that center hole can help alleviate pain and pressure as you sit.
6. Stool softeners
After giving birth, you may have tearing, stitches, or be recovering from Cesarean surgery—and the time will come for you to have that first postpartum poop. Whatever the case, Ashley says, "The thought of pushing yet another thing out of your body can make anyone want to cry."
And who could blame you? To help make it easier, your hospital or birthing center will most likely offer a stool softener—and you can also buy some over the counter for when you get home. Take them, even if you think you don't need them.
Many Cesarean patients describe neck pain during the perinatal period following birth. Oftentimes, this is the result of your bowels becoming sluggish after surgery and trapped gas presses on the diaphragm, which triggers a nerve and extends the pain to the shoulders.
"Normally this pain is gone after a few days, but it can be longer," Ashley says, "If it goes on longer or is particularly painful, you can talk to your provider about taking anti-gas medications."
7. Short, easy walks
It may not seem like much, but taking short walks can be an enormous benefit during the postpartum recovery process. Whether the goal is to keep your digestive system moving along normally or to help reduce swelling in your legs, feet, and hands due to all those IV fluids, movement is key—as long your provider gives you the okay first.
Getting out of the house also plays a role in the mental and emotional recovery that comes with having a baby. Not only will it boost endorphins and cultivate that feel-good "high," but will give you a slight sense of normalcy after a hectic few first days. So grab your most comfortable walking shoes, the newest member of your family, (plus a mask!), and head outside for some fresh air.
Regardless of how you deliver baby, there's going to be some form of postpartum care involved. The best way you can prepare is to go through your birth preferences with your support team and provider, stock up on the materials mentioned above, and focus on taking care of you so you can take care of baby.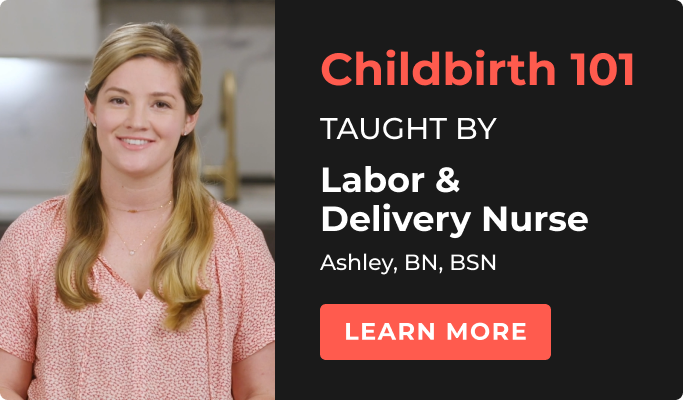 About our Expert
Ashley Derderian Sousa is a board-certified lactation consultant and registered nurse with nearly ten years of experience in labor, delivery, and postpartum units. Through approachable methods and open and honest philosophy, she believes each journey to becoming a parent is a personal one that should be met with self-compassion. She is currently completing a Masters of Health Education.