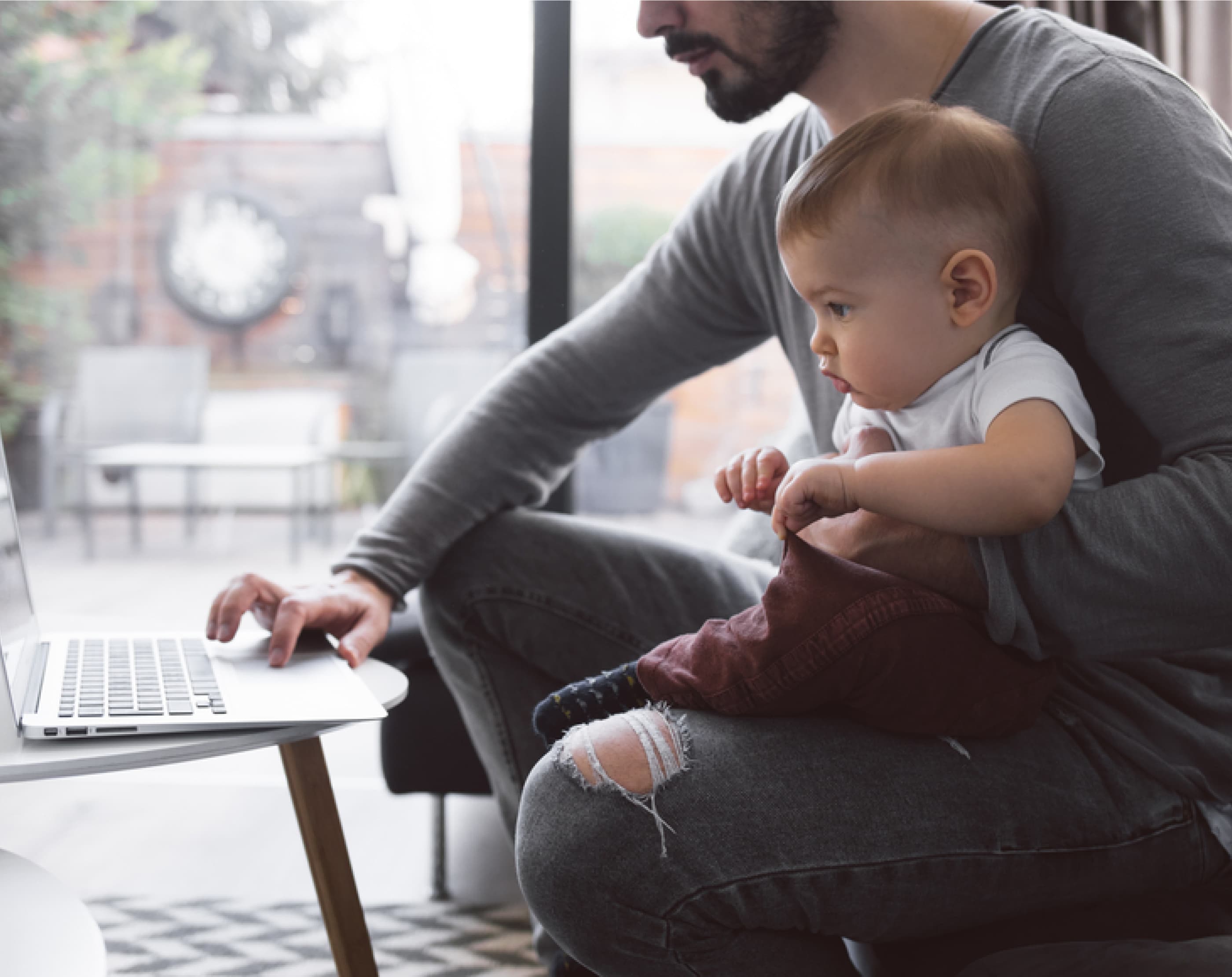 CORPORATE BENEFITS
Empower employees with access to the leading online learning platform for parents.
Expert-led, on-demand classes designed to help the modern working parent thrive — from pregnancy, to baby and beyond.
Why Tinyhood for Business?
Improve employee wellness
Quality childbirth and prenatal education are proven to reduce rates of postpartum depression and anxiety — leading to a healthier, happier workforce.
Recruit and engage a productive workforce
Working parents are essential to business success—about 40% are people managers. Offering Tinyhood's expert-led classes shows your commitment to helping your employees navigate their parenting journey.
Engage all working parents
We cover topics from pregnancy through parenthood, such as childbirth, infant care, safety/CPR, injuries + illnesses, sleep, feeding + nutrition, potty training, and more.
Deliver a Seamless Technology Experience
Our cinematic-quality and highly engaging classes are designed for the way the modern parent wants to learn, on a personalized, interactive technology platform.
Here's what parents are saying about Tinyhood
I learned so much and feel prepared for what's to come.
Tinyhood's Childbirth class is extremely instrumental to first-time parents. It encompasses a wide range of information, but it isn't overwhelming. Many pregnancy and parenting information sources have an obvious agenda, but this course was great at providing information parents can use to make decisions that suit their family best.
Eased all my anxieties
As an expecting parent, I know next to nothing about childbirth, breastfeeding, newborn sleep and more. These bite-sized videos have eased so many anxieties! I feel very confident now as a new parent and know I can refer back to these videos whenever I need to.
This is my go-to resource
Every day brings a new challenge, so I am SO thankful I found Tinyhood. These short video lessons make me feel like I have the best experts in my back pocket for every issue that comes up. I love having this as a go-to resource.
SO helpful and informative!
As a first time parent, I feel so lost with almost everything. From sleep issues, to dealing with the witching hour, to feeding, Tinyhood has the best pro tips. Plus, I love how short and easy to navigate the videos are, so I can easily find an answer to pretty much any question I have!
Love the short videos, demos, and checklists
I was so impressed with the quality of these on-demand videos and the class content. As a busy new mom, I barely have time to take a shower but Tinyhood makes it so easy to find answers to my questions with the short video lessons, real demonstrations, and checklists.
This class saved my daughter's life
My daughter began choking this morning (full-on, couldn't breathe). We performed CPR as we learned from your videos and saved her life. If we hadn't watched these classes, we wouldn't have known what to do, and I hate to think about what would've happened. Scariest day of my life. Thank you.
What Your Employees Get
Your employees can stop spending hours scouring through parenting articles and books - Tinyhood curates the best-in-class parenting information, all in one place, when they need it most.