Read on as Tinyhood mom Amanda B. reflects on her experience preparing for childbirth, and what she wishes she had known from the start.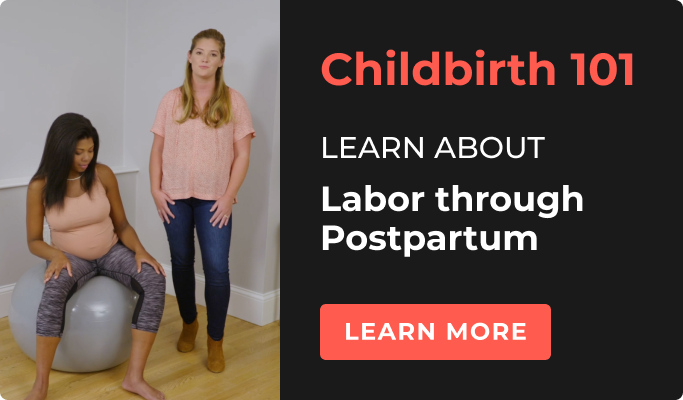 When I was pregnant, I had a ton of anxiety about giving birth. There were so many "what-if's"… What if I can't handle the pain? What if I tear? What if my epidural doesn't work? I knew that I wanted to prepare in some way so I would have some sense of what I was walking into. First, I took an online Zoom class through the hospital where I was delivering. My OB had recommended this, so I blindly signed myself up. After this not-so-great experience (more on that below!), a friend told me about Tinyhood's online Childbirth 101 course which I also decided to watch.
Now that I've taken both classes (and actually given birth!), I thought I would recap the differences for those of you who may be deciding between a hospital class vs an independent online course. In the end, I can't believe we wasted our time & money on a hospital course. Tinyhood's was WAY more informative (and unbiased!), WAY easier to understand, and WAY easier to watch as a busy couple. I'm so relieved we found this course as it truly prepared me for the labor experience. Personally, when I ended up being induced at the last minute, from the class I knew what to expect from the induction process, WHY it was necessary – and I wasn't thrown off by the "waiting around" period for contractions to start.
Here's why I thought Tinyhood's course was so much better than my hospital course:
1. It covers ALL the ways labor can go - not just the best case scenario.
For so long, expecting parents have historically really only had the option of a more "old school" hospital class. These classes are often structured around unmedicated childbirth and can often "skirt over" different forms of medical interventions and relief options. Tinyhood's Childbirth 101 course is super comprehensive, and covers what labor is like whether you go unmedicated, have an epidural, or end up having a c-section. They also cover postpartum recovery in depth, including tips for how to recover based on how your delivery went. After watching it, I felt empowered to decide what my birth preferences are, and how to advocate for them. Plus, I felt informed enough about all the different outcomes in case things didn't go as planned.
2. Unbiased pain management tips.
In a totally unbiased way, the instructor (an experienced labor and delivery nurse) covers all the different pain management options available. They talk about the pros and cons of epidurals, different relaxation techniques, breathing exercises, and even different labor positions that will help you get as comfortable as possible – including which ones are possible if you do get an epidural. (P.S. Did you know you don't have to labor on your back?!)
3. It's fully on-demand (and private!).
In my hospital course, I was on a Zoom with 12 other expecting parents and had to show up at a specific time for 4 hours with only a 15 minute break (not ideal for someone 8 months pregnant!). It frankly was kind of annoying to have to constantly pause for other people's questions, and it felt like we were trying to rush through all the information. In the Tinyhood course, I could watch it at my own pace, cozy up in my leggings with some yummy takeout, and watch it over the course of a few nights with my husband. It actually ended up being a pretty intimate, special experience for us to watch it together, and I felt like I was taking a private class with an experienced Labor and Delivery nurse who has truly seen it all!
4. Easy to understand.
The hospital class was basically an educator talking through some slides (that looked like they hadn't been updated in years!). It was way too much information to take in at once and I felt super overwhelmed. Tinyhood's course had positioning and birthing ball demos with real pregnant parents, showed cool animations that helped to really explain what my body would be going through, and they had downloadable handouts which broke everything down in more detail in case I wanted to learn more.
5. Ability to rewatch.
Because the course is on-demand, it meant that I didn't have to take any notes and I could rewatch certain sections if I wanted to. For example, the first time I watched, I didn't pay as close attention to the postpartum part. But, once our baby was born I was like wait – how do I make that postpartum relief pad again?
In the end, it wasn't until I watched the Tinyhood course that I started to feel somewhat at ease about the big day.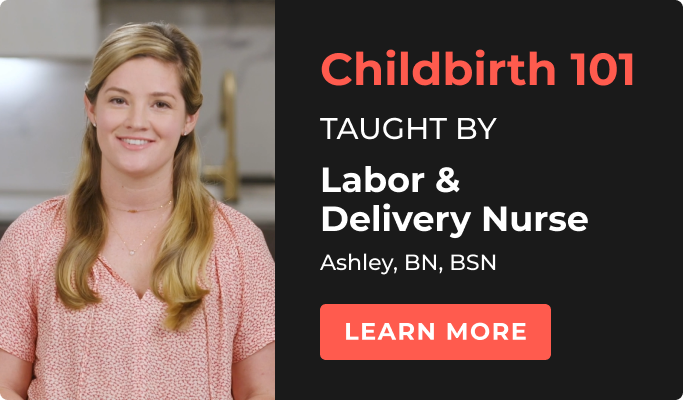 Note from Tinyhood: Feeling anxious about childbirth? We get it. Our online course Childbirth 101: From Labor through Postpartum will teach you everything you need to know - and what other parents WISH they had known – about labor. Taught by an experienced Labor and Delivery Nurse and Childbirth Educator, you'll learn about the final weeks of pregnancy (including how find relief from common aches and pains, how to know you are in labor and when to head to the hospital, a deep dive on the phases of labor, pain management tips for ALL the ways labor can go, what to expect in the first few hours and days after birth, and a full deep dive on the postpartum experience.