It's common for first-time parents to spend months leading up to the day baby arrives juggling a million to-dos. From choosing a pediatrician to staging a picture-perfect nursery nook and building your maternity wardrobe from nursing bra up, it's no secret that there are lots to tackle when preparing for your baby's grand entrance into the world.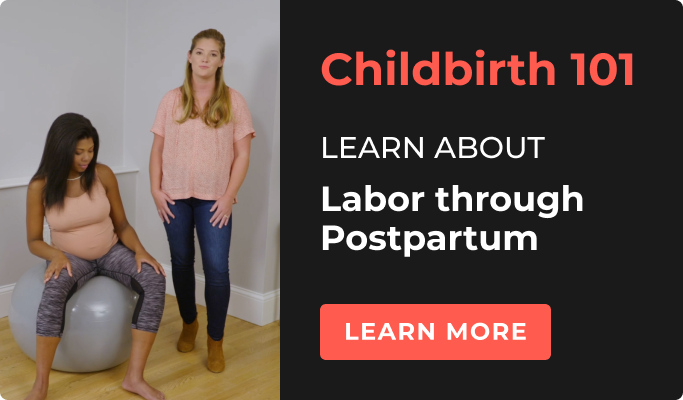 That said, it's crucial that you don't leave out one of the most important tasks: Packing your hospital bag. Tinyhood's leading Labor and Delivery expert, Ashley Derderian Sousa, recommends ticking this task off your third-trimester checklist sometime between week 32 and 35 of pregnancy.

"Okay," you might be saying, "but what, exactly, should I have on hand to pack?"

The good news is that Ashley's years as a labor, delivery and postpartum nurse (and experience having children, herself! ) have taught her which items are non-negotiable when preparing for a hospital stay that's both as comfortable and stress-free as possible. Below she shares the 5 items that should be on your hospital bag checklist. You can pair them with our full hospital bag checklist, which is available for download here.

Hospital Bag Checklist:
1. A charger with a long cord
While your phone and phone charger may be a no-brainer (see: calling and texting your loved ones, sharing news of your new baby to social media), packing a charger with a long cord will come in handy in case there isn't an outlet near your hospital bed.


2. A properly installed car seat
This may be one of the last things to take care of before your due date, but it's one of the most important items of baby gear since many hospitals will require your baby to be in a car seat to be discharged. But what if you're one of the many parents who find that installing a car seat leads to head-scratching results?

No need to worry. Searching the National Highway Traffic Safety Administration's (NHTSA) listing of child passenger safety technicians will turn up local car seat inspection sites that employ certified, trained technicians who can ensure your child's car seat is correctly installed. Sometimes, they can even come to you.

Keep in mind that due to COVID-19 restrictions, the hours of inspection sites may be adjusted. Some organizations may offer car seat check appointments or car seat installation classes virtually, both great options if you want to master all those complicated straps and hooks in your PJs.


3. Flip flops
"Flip flops are easy to slip on-post birth," says Ashley "when your legs may be swollen from IV fluids and fluid shifts after delivery." They're also great for pacing the hospital hallways during labor and hitting the shower after birth.


4. Toiletries you'd pack for a short trip
You can go as simple as some travel-sized bottles of shampoo, conditioner, and lotion, as well as your toothbrush and toothpaste, a brush and hair ties, and deodorant. Don't forget lip balm either since hospital air can be especially dry. Wear contacts? Remember to pack those too, plus a contact case and some solution.
"The average hospital stay is just two to four nights and the hospital provides you with many essential items for you and baby," says Ashley," like gowns, ice packs, towels, diapers, and onesies, so no need to stress and pack yourself a giant suitcase of supplies."
Though by all means, having certain grooming or self-care essentials, like your favorite makeup on hand can be an invaluable pick-me-up when welcoming visitors or taking that first family photo.


5. Postpartum clothes
Your body will inevitably look different after birth, which makes the clothes you wore pre-pregnancy impracticable when heading home from the hospital or birthing center, as you won't be fitting into old staples like your favorite pair of leggings for at least a few months or more (and that's okay!). And with postpartum bleeding in effect, you'll need to consider that you'll also be wearing heavy-duty sanitary pads and possibly an ice pack.

Although your provider will supply you with disposable mesh underwear to help keep your sanitary pad in place, the material can sometimes feel less than comfortable on your skin. In which case, high-waisted cotton underwear is an ideal option as it's soft in material and won't let sanitary pads slip.
Plus, if you've had a cesarean birth, they can help protect your incision and support your postpartum belly. Add to this a soft, well-fitted nursing bra if you've opted to breastfeed. If not, go with a supportive (but not too-tight) bra with stretchy, breathable fabric.

Ultimately, the rest of what you wear after birth should be all about comfort too. If you'd rather not be in your pajamas or robe while leaving the hospital, consider choosing relaxed and casual maternity clothes like high-rise pants, a flowy dress, or maternity leggings and a comfortable top. For many new parents, these are postpartum staples—and can be worn well into the weeks and months to come.

Want more help preparing for your baby's birthday? Check out our Childbirth 101: From Labor through Postpartum course, which highlights Ashley's tips on everything from what to expect during the final weeks of pregnancy to forming your birth preferences, and the physical and emotional changes that often surprise parents after birth. And remember, you've got this.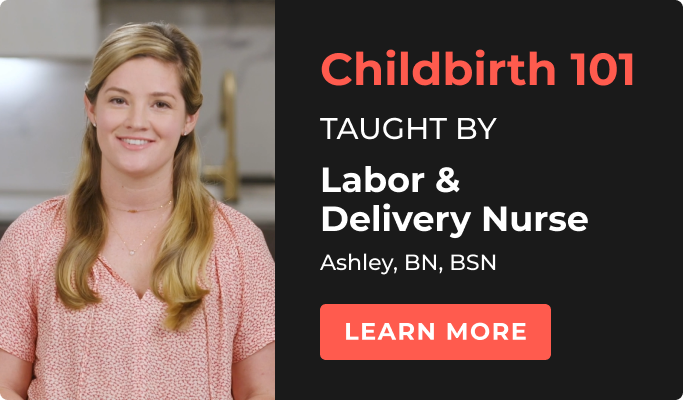 About our Expert
Ashley Derderian Sousa is a board-certified lactation consultant and registered nurse with nearly ten years of experience in labor, delivery, and postpartum units. Through approachable methods and open and honest philosophy, she believes each journey to becoming a parent is a personal one that should be met with self-compassion. She is currently completing a Masters of Health Education.