Does it seem like your baby might be ready to have their first taste of solid food? Congrats! That first feed is such a fun milestone for both parent and child.

Along with breaking out the camera, we asked our pediatric nutritionist, Vanessa, for a few pro tips to help get you prepared. Here are her top suggestions, five easy ways to ensure you are both set up for success and that you are helping baby establish a healthy relationship with food, right from the start.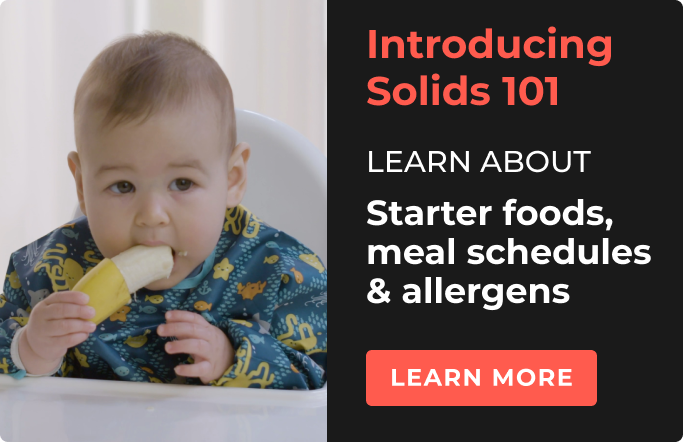 5 Pro Tips for Approaching Your First Feed
1. Set appropriate expectations.
Of course, we all want our children to love food and eat well, but understand your baby is in the very (very!) early stages of feeding, and there's still a lot for them to learn. Start with small puree and baby food portions, and expect the whole event to take no more than a few minutes. In fact, Vanessa said that might even be pushing it. Many times, she says, that first feed might only last a single bite, and it's also not uncommon for a baby to reject the food altogether when entering new eating habits. All totally fine. Don't put pressure on yourself or your child to achieve a certain outcome. There will always be a chance for you both to try baby food again.
2. Be ready for a mess.
Yeah, this one kind of goes without saying, right? Before bringing out the food, get your little one situated with a bib. Or better yet, says Vanessa, just take baby's clothes off altogether for first foods. Also, be mindful of the floor you're placing the high chair on during mealtime. Unlike clothes, rugs or carpets can't be placed in the washing machine.
3. Time it right.
It makes sense to offer that first feed when baby is hungriest, right? Vanessa says that isn't always so, since hungry babies aren't generally too happy or open to learning a new skill, like eating. Instead, she suggests that you offer the first feed after or between their normal breast feeding or bottle-feeding within baby's diet.
4. Stay distraction-free.
Not only is this a moment you will want to remember, but having the TV off and the phone away is the safest way to approach a feed, particularly if you've chosen the baby-led weaning approach, since you will need to look for any choking hazards. (Not sure what we mean by "baby-led weaning"? Don't worry. We break starting solid foods and introducing solid foods down for you here.)
5. Be engaged.
Not only do we want our children to view food as a way to fuel their bodies; we also want them to see it as a fun social experience with a variety of foods. So along with offering healthy options, it's important that we sit and engage with our baby while they're eating. Try talking with them about the food itself, and the specific flavors, textures and smells they may be experiencing in each spoonful.

So you know what to expect from the first feed… but what about the feeds that come after? How exactly do you offer new foods, flavors and textures to your baby? And what do you do about allergens and potential allergic reactions?

Our Introducing Solids 101 online course (led by Vanessa!) tackles all these questions and more, taking you from the first feed through the very first year, so you can feel confident you aren't just feeding baby safely, but laying the foundation for a healthy relationship with food. Check it out here.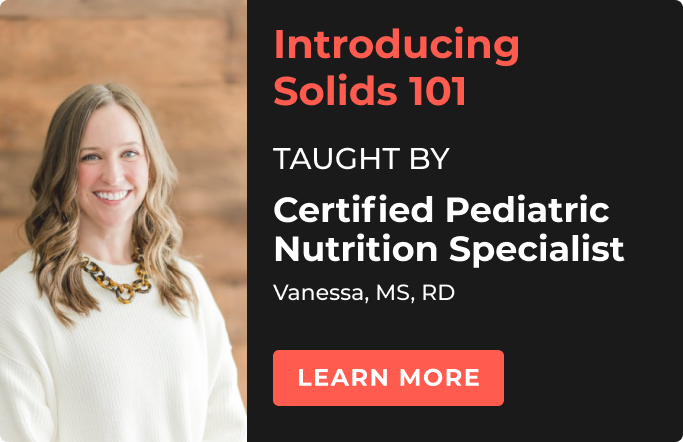 About our Expert
Vanessa Thornton is a Registered Dietitian and Board Certified Specialist in Pediatrics who has been in practice since 2011. She has a masters in Nutrition, a Specialist Certification in Pediatrics, and a Certificate of Training in Childhood and Adolescent Weight Management. Vanessa completed her dietetic internship at a teaching hospital affiliated with Harvard Medical School and Tufts University School of Medicine.