Whether you're just starting out on your Baby Led Weaning journey, or looking for some new meal ideas to try, check out the list below for 21 Baby Led Weaning recipes you and your baby are sure to love. From various types of toasts to nutritious noodle dishes, these meal recipes will give you plenty of inspiration.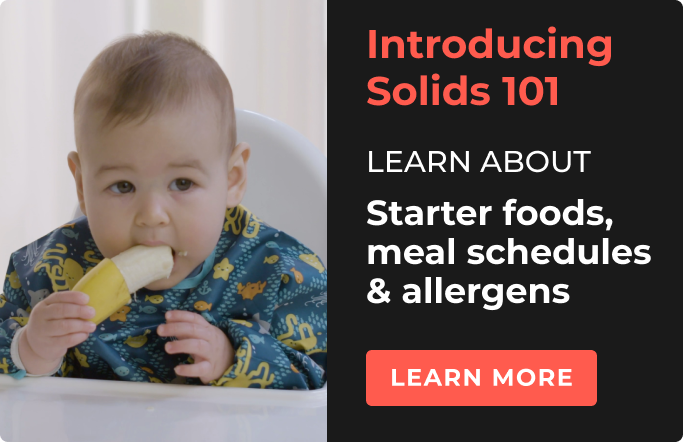 First, let's go over some basics of both starting solids in general and Baby Led Weaning:
Before starting your baby on any solid food it's important to talk to your healthcare provider first, and make sure they are ready. For Baby Led Weaning you'll want to wait until your child is 6 months of age and showing these signs, indicating that they are ready for solids.
They can hold their head up independently
They can sit upright on their own or supported
They've doubled their birth weight or be ~ 13 pounds
They are showing interest in solid foods by mimicking chewing/biting, reaching for food, or watching you eat
They can move food from the front of their mouth to the back of their tongue

What is Baby Led Weaning?
This feeding approach is becoming increasingly popular, and teaches the infant to chew first, then swallow. During this method, parents offer soft solids and table food first, and the baby feeds themselves with their hands vs. offering traditional purees with a spoon.
What are the benefits of Baby Led Weaning?
Baby led weaning is thought to promote good eating habits and help children learn to eat "normal" foods while also learning dexterity. It is also thought to reduce picky eating tendencies. Not to mention, it saves time and money, because the baby is eating the same foods as everyone else in the family, just with modifications.
Won't my baby choke?
There's a difference between choking and gagging. Your baby's body and swallowing mechanisms, if working correctly, are meant to protect your baby from choking by having them gag—essentially pushing a large piece of food from the back of the baby's mouth/throat to the front, protecting their airway. With Baby Led Weaning your baby will most definitely gag, however with them being in charge of putting the food into their mouth, it actually may cut down on choking risk.
What types of food should I start with?
Babies can eat a wide variety of foods using this method, but there are some common ones that are best to start with. Some favorite BLW first foods are: steamed carrots or broccoli, baked sweet potato, strips of toast, avocado, meat on the bone, clumps of rice, or corn on the cob with the kernels cut off. Remember you want to encourage your child to eat a variety of foods from all food groups and respect their hunger cues— don't force it!
What foods should I avoid on Baby Led Weaning?
Whether you're doing Baby Led Weaning or not, there are some foods you'll definitely want to avoid until your little one gets a little older. These foods include: honey, hard or sharp foods, cow's milk (before the age of 1), common choking hazards (hot dogs, grapes, whole nuts, dried fruit), and added sugar or salt.

From delicious breakfast recipes like banana blueberry fritters or broccoli egg cups, to lunch recipes and dinner recipes like Fish Pie Bites, and Turkey Avocado Patties, these 22 Baby Led Weaning Recipes will keep you and your little one excited for meal time.
22 Baby Led Weaning Recipes to Try:
3-Ingredient Banana Pancakes for Baby
Broccoli Egg Cups for Baby + Toddler
Carrot Avocado Zuchinni Muffins
Mini Chicken and Meatballs with Carrot
Yogurt Pancakes with Cocoa and Banana
Baked Chickpea Patties with Yogurt and Sweet Potato Fries
Egg free baby led weaning courgette bites

For more help on getting your baby started on solids, other foods to avoid, and feeding schedules, check out our online class, Introducing Solids 101: The Ultimate Guide to Getting Started. Registered Dietitian and Board certified specialist in pediatrics, Vanessa Thornton will walk you through infant nutrition guidelines, sample meal plans, fluid intake recommendations, how to introduce allergens and more. Plus, you'll see real babies eat solids for the first time, so you'll know what to expect.