"Is my baby's bath too hot?"
"Could my baby suffocate in this baby carrier?"
We get it! Even the everyday moments with a newborn baby can get you seriously second-guessing your baby's safety. So, we asked some actual experts — from certified sleep coaches to registered nurses — to give you some everyday, basic infant safety pro tips.
Psst: All of these safety tips along with many more tips and hacks are covered in our Baby 101 course. Our experts will teach you everything there is to know about taking care of a baby. From breastfeeding, to sleep, to choking CPR, to everyday baby care basics -- you'll have that (cute and chunky!) leg up for whatever comes next.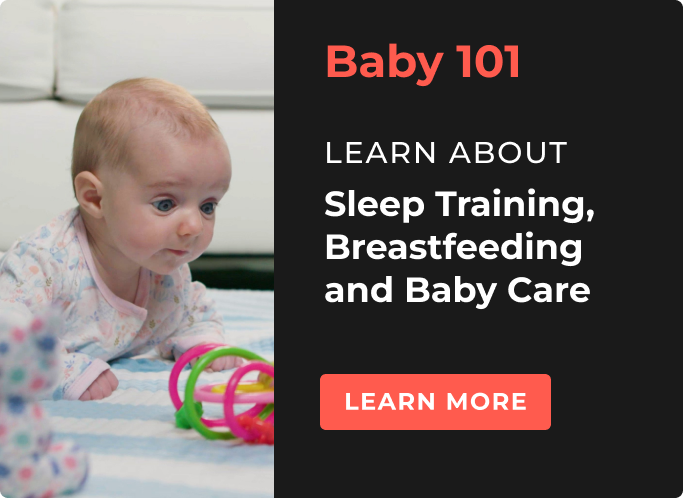 1: Prep the changing area BEFORE you change a baby.
To make sure you never have to leave your baby unattended at the changing table, prep the area before you put baby down for a change and keep all your supplies within arm's reach so you never leave baby to grab a forgotten item. You'd be surprised at how much even a newborn can wiggle!
2 : Check bath water temperature with your elbow or wrist.
Newborn babies are still working on regulating their body temperature so it's important to keep them warm -- but not too warm -- while bathing them. Our hands aren't always accurate gauges, so use the inside of your elbow or wrist to check the temp. Water should feel warm, but not hot.
Bonus hack: Love accuracy? Get an inexpensive bath thermometer to tell you exactly what temperature your water is. Shoot for no more than 100 degrees F.
3: Protect the umbilical cord from fabrics and be sure to keep it dry.
This is a two-part pro tip for umbilical cord safety! The first trick: fold down the front of the diaper before securing the tabs while your baby's umbilical cord is still healing. Once it's fallen off, you can resume diapering as usual.
Second: never put baby in a traditional bath while their umbilical cord is healing. Instead, give sponge baths until the umbilical cord falls off to make sure it stays clean and dry and exposed to air often. This will help prevent infection and promote faster healing.
4. Never fall asleep with a baby on your chest.
Babies love when "tummy time" involves actually laying on their parents' tummy! But it's important to only try this position while you're awake and are not at risk of falling asleep. Why? Falling asleep with a baby on your chest could lead to them rolling off and hurting themselves, or even suffocating. So make sure you've had your coffee or a little rest before bringing baby on board for maximum tummy fun and safety.
5. If you accidentally nick baby's skin during nail-trimming, never use a band-aid.
First thing's first...baby is bound to get some boo boos! So don't panic if you nick baby's skin—but, be sure to skip the band-aid. Why? Babies love putting their hands in their mouth and if the band-aid falls off, it could be a choking hazard. All you need to do is apply pressure with a sterile gauze until the bleeding stops. (And, take a deep breath—baby's boo boos hurt parents too!)
6. Always keep bath supplies handy so you don't need to step away.
Much like the changing table, the bath is another place baby should never be unattended. Do some prep before sudsing them up, to be sure you have all your supplies like washcloths, shampoo and towels right next to you so you don't have to step away to grab something you forgot. Remember, even if a baby isn't mobile yet, they can still move suddenly which puts them at risk of falling in the bath.
7. Burp Like A Pro: Make sure to keep baby's airways clear at all times.
Safely burping a baby can be among the most frustrating things to master, so here's a pro tip to try: keep baby's head propped up high on your shoulder to allow their nose and mouth to be free. However, if you or baby aren't comfortable with their head in that high position, adjust to where it's comfy for both of you and just make sure to turn baby's head to the side to allow air to come out of their mouth.
8. Keep the crib clear.
It's oh-so-tempting to want to put cute bedding, bumpers, blankies or toys in the crib. But as cute as they may be, they can also be suffocation hazards. For the safest crib possible, use a fitted sheet on a firm, flat mattress. Remove any soft bedding, crib bumpers, blankets, pillows, and soft toys from the sleep space. And remember: always have babies sleep on their back. That way everyone can rest at ease.
9. Baby Carrier 101: Always make sure baby's head is turned to the side.
Baby carriers are a great way to keep your new baby snuggled close, yet still allow you to use your hands—maybe to even feed YOURSELF for a change! Whatever carrier you choose, make sure baby's head is always turned to the side, ensuring their nose and mouth are clear so their airway remains open.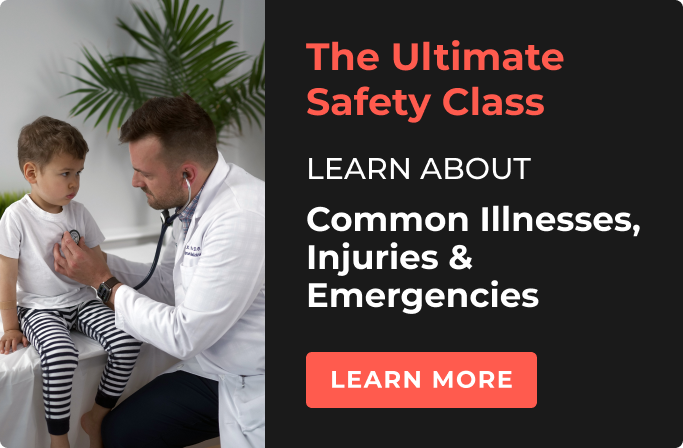 P.S. don't forget to check our ultimate safety class to learn EVERYTHING you need to know for infant CPR and more.