Binky, Paci, Soothie, Dummy, no matter what you choose to call it, it's no secret that pacifiers can be a newborn parent's saving grace. If you decide to use one, not only are they a great way to soothe a fussy baby, but the AAP also recommends them to reduce the risk of SIDS. And, if you've ever stepped into a pacifier aisle or tried to look for one online, you know there are hundreds of different options to choose from, leaving you wondering, "What's the best pacifier for newborns?" The answer: it depends!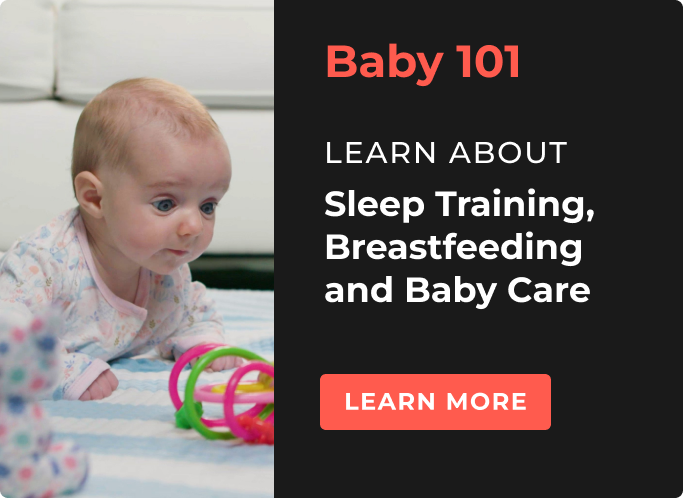 When is the best time to introduce a pacifier?
The American Academy of Pediatrics recommends that parents consider offering pacifiers to healthy infants one month and older at the onset of sleep while placing the infant on their back as a way to help prevent SIDS. They also recommend waiting until breastfeeding is well established, usually at about 3-4 weeks of age.

When is the best time to wean?
As your baby gets older, pacifiers are no longer necessary and can have adverse effects on your baby. Even though many children get rid of the pacifier somewhere between 2 and 4 years old, the AAP recommends weaning babies off the pacifier after 6 months of age to prevent dental issues.
If you do choose to use a pacifier for your little one, or even if you're still undecided, it's a good idea to have a few different kinds on hand to try. According to Babylist, these are the 12 best pacifiers this year:

Best for Newborns Overall: MAM Start Newborn
This pacifier was made with newborns in mind. It's extra small and lightweight and the age range is from 0-2 months making it great for tiny babies. The shape keeps their noses clear, ensuring they can breathe freely.
Best for Babies Who Spit Them Out: Philips Avent Soothie
Often used in hospitals, this affordable pacifier is made with medical-grade silicone and has a rounded nipple that is the same shape no matter which way the pacifier is turned (helpful when you're putting it in your child's mouth in the dark!).
Best to Stay in Baby's Mouth: WubbaNub
With a snuggly stuffed animal attached to it, the WubbaNub helps keep the pacifier in your child's mouth, and gives your little one something to hold on to.
Best Natural Rubber Pacifier: BIBS Natural Rubber
This Denmark-based company makes pacifiers from natural rubber that are free from BPA, PCS, and phthalates and are similar in shape to a breast to help support breastfeeding.
Best Lightweight Pacifier: Tommee Tippee Ultra Light Silicone
This lightweight option is great for smaller, younger babies. The curved shield ensures a comfortable fit and it has air holes to prevent skin irritation.
Best Pacifier for Breastfed Babies: Dr. Brown's Happypaci
The natural nipple shape of this pacifier claims to help avoid nipple confusion.
Best Orthodontic Pacifier: Natursutten Natural
A great choice for those really concerned about the potential dental side effects of pacifier use. This pacifier is made in Italy for 100% rubber and helps support proper development of baby's teeth, jaw and palate.
Best Ergonomic Pacifier: Nanobebe Flexy
This paci's curved and flexible shield forms easily to baby's face for a comfortable and natural fit. It also has vents to ensure airflow to avoid moisture buildup and irritation.
Most Stylish Pacifier: FRIGG Natural Rubber Baby
This natural rubber option is stylish and functional. It comes in many colors and various shapes to help your baby find their unique paci design.
Best for Double Duty: Ryan & Rose Cutie PAT
This pacifier serves double duty as a pacifier and teether, making it a good option to grow with your child. The durable rubber won't break down as teething gums bite the ridged loop for relief.
Best Pacifier for Breath Support: Chicco PhysioForma (Soft Silicone)
With a unique nipple shape, this pacifier helps comfort while also positioning the tongue to support an open airway.
Best Giftable Pacifier: Loui Classic
With a higher price point, this pacifier makes a great special gift. Its minimalist design and matte finish make it the most aesthetically pleasing option.

Remember, it's important to follow the age range on the pacifiers as your baby grows, and replace ones that show signs of deterioration. It also may take a bit to get your little one used to the pacifier or find the one they like. As always, if you have any concerns, speak with your child's pediatrician.
For more essential baby care tips, check out our online course Baby 101: The Parenting Prerequisite for a crash course in everything from newborn sleep and safety, to diaper changes, baths, and more.